ProStorage Hard Drive Storage Cases
ProStorage are professional hard drive storage cases and archiving system to secure, protect and organize internal hard drives. Our premium ProStorage media cases accommodate bare 3.5″ internal hard drives (HDD and SSD, and RAID Sleds), 2.5″ Laptop drives, LaCie Orange Rugged drives, and LTO Tape cartridges.  Each anti-static ProStorage unit comes with a lid for extra protection.
Built on the success and foundation of our two original reliable hard drive storage cases, the ProStorage product family is continually growing and adding versatility to our line of dependable storage cases to accommodate a more diverse range of media drives and overall storage capacity.
Constructed to Protect
Security without the heavy baggage. Our closed-cell, durable anti-static foam hard drive storage cases provide the highest degree of protection against static electricity and shock damage, dust, and other environmental contaminants while guarding against preventable data losses. With a lightweight construction that delivers heavy-duty physical protection with an additional lid enclosure, ProStorage cases create an ideal environment for hard drives and digital media to be stored and protected.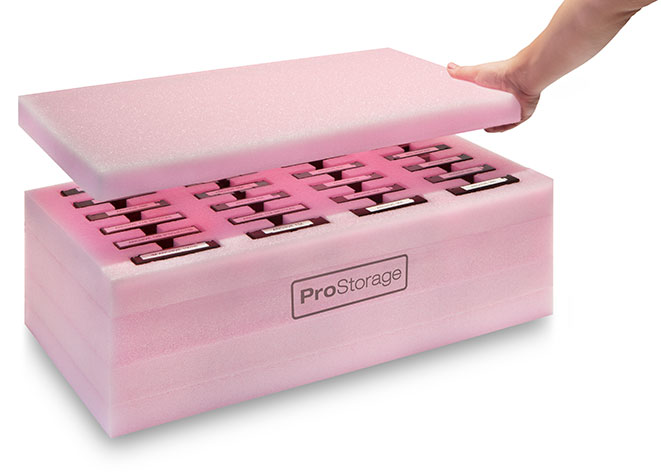 Made to Archive
There's a place for everything. ProStorage closed-cell, anti-static foam hard drive storage cases smartly organize from 6 to 40 internal hard drives (HDD and SSD, RAID Sleds as well as Laptop drives, LTO Tape cartridges, and LaCie Rugged drives) while maximizing efficient archiving methods. The ProStorage system saves businesses from devastating data losses by providing a comprehensive archiving plan and simple redundancy – preparing you today for tomorrow's potential catastrophic events.
Designed to Fit
Out of sight, but not out of mind. Each of our hard drive storage cases are designed to easily fit inside the drawers of standard file cabinets or office storage boxes to securely protect your archived data. ProStorage keeps you organized by developing efficient products that you will want to use.
A complete list of Technical Specifications for each ProStorage product can be found on the Store page, View Product Details.
Need a Custom Solution?
We understand you may need custom size storage units, tailor-made to fit to your specific needs, and ProStorage has got you covered.
When you require a non-standard size unit, ProStorage is happy to provide a custom solution, constructed from the same high-grade, anti-static material, and perfected to your requirements. We want all of your assets to be protect and secure.
Simply remove your hard drive from its hard drive enclosure or drive bay and place in the ProStorage protective case for safe storage that you can keep under physical lock and key.
For all inquiries and requests please call +1.323.741.4702 or email [email protected]